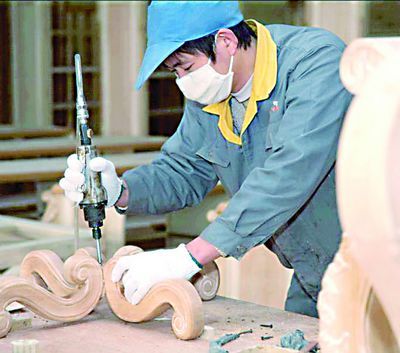 Where is the transformation and upgrading of wooden furniture?
In 2011, there were two news stories for domestic wooden furniture companies: one was the "Da Vinci Furniture" incident in China, and the other was the "most stringent formaldehyde standard in history". This has sounded the alarm for the company and brought such thinking: In the face of multiple pressures such as brand crisis and foreign barriers, where is the transformation and upgrading of the wooden furniture industry?
Wood products such as wooden furniture have traditionally been a large export commodity in the Hangzhou area. In recent years, Hangzhou Inspection and Quarantine Bureau has taken measures to help enterprises improve their quality management system and crack down on foreign technical trade measures. Since 2009, the export of wood products and wooden furniture in Hangzhou has continued to show a steady and rising trend: in 2009, the cumulative export of 15630 batches, the value of goods was 270 million US dollars; in 2010, the cumulative export of 19980 batches, the value of 360 million US dollars; 2011 A total of 24,257 batches of exports, valued at $405 million...
However, behind the ever-increasing export volume, there are many problems such as the rising labor and raw material costs, the tremendous pressure from the continued appreciation of the renminbi, and the lack of self-owned brands and the endless stream of technical trade measures. Therefore, how to export internal wooden furniture enterprises in the transition period should improve their internal strength and take the road of change. It is not only a problem that needs to be solved urgently in industrial development, but also a question of how government departments should guide and help.
Hangzhou is the main export area of ​​China's wooden furniture, with 233 wooden furniture export enterprises. In recent years, the export of Hangzhou-made wooden furniture has shown a good trend of continuous growth for several years. There are three reasons for this: First, social and economic conditions dominate the development of the furniture industry. The rapid development of the global real estate industry, the increase of population and the improvement of the income level of people in various countries are very important factors in the development of the furniture industry, which has led to the continuous growth of wooden products such as wooden furniture in Hangzhou. Second, the geographical direction of exports has changed. In recent years, the country of wooden furniture exports in Hangzhou has been relatively concentrated, and the United States remains the largest export market, with Europe ranking second. However, in the case of relatively concentrated export markets, the export of wood products and wood furniture in Hangzhou to other countries and regions in the world has also gradually increased. Among them, the Latin American and African markets grew rapidly. In 2011, the amount of wood products exported to Latin America and Africa, such as wooden furniture, was 5.274 million US dollars and 4.922 million US dollars respectively, up 95% and 23% respectively. Third, the scale of the company has expanded. In 2011, there were 11 large-scale enterprises with a production value of more than 100 million yuan in wooden furniture export enterprises in Hangzhou. These enterprises have diversified marketing concepts and both domestic and foreign markets, which has effectively promoted the development of the wooden furniture industry in Hangzhou.
Although the export volume has increased year after year, it is well known that most of the domestic wooden furniture export enterprises are mainly engaged in OEM and OEM production and processing trade. According to the CEO's words: "The earned labor costs and material costs are artificial. "The traditional business model is backward and the added value of export products is low, which has become an issue that Hangzhou wooden furniture export enterprises cannot avoid." At present, the scale of the furniture industry in Hangzhou is very wide, and the polarization is serious. The small and medium-sized private enterprises that do not have the scale still account for the majority. Some small and medium-sized enterprises have low production efficiency, backward production mode, and no research and innovation. Followed by the low value-added export products, many small and medium enterprises through the furniture export furniture just to earn processing fees, a long time mainly dependent on low labor cost advantage. In recent years, with the appreciation of the renminbi, it has directly led to an increase in the overall cost of China's furniture industry. As the overall wage level of China's labor force continues to rise, this "core advantage" of wooden furniture export enterprises has ceased to exist. Compared with the foreign furniture that has been sold for hundreds of thousands of yuan, it has been sold in China. Hangzhou wooden furniture enterprises urgently seek breakthroughs in the two key indicators of "brand image" and "innovation ability", independent brands and innovative designs. To increase the added value of the product.
In order to improve the quality of export wooden furniture, improve the effectiveness of export inspection and quarantine work, and maintain the quality reputation of "Made in Hangzhou", Hangzhou Inspection and Quarantine Bureau has always improved the strict management of source management, dynamic management of classification and classification, and strengthened inspection and quarantine. Measures such as services and services ensure the quality and safety of exported wooden furniture products.
Check service
Strengthen source management and strictly register and register. In accordance with the requirements of the registration system, we strictly adhere to the entry threshold for the registration of wood furniture manufacturers, and resolutely eliminate small workshop enterprises with backward production capacity, extensive management and low quality awareness. Actively support and supervise the registration of enterprises to improve the quality management system with pests, toxic and hazardous substances control and traceability management as the core, and strengthen the epidemic prevention and safety quality for the whole process of raw materials entering, processing, storage, transportation and export. Control, establish a system of surprise inspection and flight inspection, and advance the supervision work through process control to improve the effectiveness of inspection and quarantine work.
Improve the evaluation mechanism and implement classified dynamic management. Based on the test results of exporting wood products and wood furniture safety items and domestic and foreign technical regulations and standards, the product risk grades are scientifically divided to clarify export inspection items and requirements. On the basis of risk assessment of products, according to the epidemic prevention facilities, quality management level and integrity of the production enterprises, combined with the monitoring ability of the enterprises on the export of wood products and wooden furniture pests and quality and safety risks, the classification management of production enterprises . Comprehensive management enterprise management categories and product risk levels, determine the specific sampling rate of inspection and quarantine supervision frequency of different products, and implement dynamic management of enterprise management categories.
Check the service and test the supervision mode. For the inspection of the conformity of heavy metal, formaldehyde, flame retardant and other related materials for paints, adhesives, wood-based panels, fabrics, leather and other raw materials related to safety, hygiene and environmental protection, the inspection shall be carried out according to the requirements of the country of origin. Unqualified shall not be exported. While strictly checking the customs, timely collect and report all kinds of inspection and quarantine and risk warning information for exporting wood products and wooden furniture, provide expert technical advice, provide information and technical information for enterprises, and guide enterprises through the technical trade measures that are continuously introduced abroad. Relevant certifications required by foreign countries are actively responded. At the same time, we constantly improve the standard system of exporting wood products and wood furniture technical regulations and testing methods, timely transforming foreign quality and safety requirements into daily regulatory work requirements, and exploring the establishment of a "compliance statement + safety and health project testing + compliance verification" (Extraction inspection + daily supervision and management) inspection and supervision mode, thus improving the long-term mechanism to ensure the quality and safety of export wood products and wood furniture.
Encourage enterprises to strive to improve the quality of their own branded products, develop high value-added products, increase the technological content of products, enhance the core competitiveness of furniture exports; implement diversified market strategies, actively explore emerging markets and domestic markets, and reduce development to the United States and Europe. The degree of market dependence, while adjusting the business strategy, will focus on "export" and "internal demand", and actively explore domestic market demand; strengthen daily monitoring and early warning, pay attention to changes in exports to Europe and the United States and related market policy changes, through the establishment of trade protection policies and Technical barrier warning mechanism to help enterprises understand and timely respond to foreign technical trade measures.
Prospect
Potential still has to adjust the strategy to expand the market
Although the export of wooden furniture has encountered a bottleneck period to a certain extent, it is not a worrying road ahead. With the continuous improvement of people's living standards, the unremitting pursuit of quality of life, and the good quality and price advantage of China's wooden furniture, the export of wooden furniture still has potential in the international market and will not disappear in the short term.
First, the labor cost advantage and skill advantage are outstanding. Although labor costs in recent years, Hangzhou enterprises increased rapidly, but due to increased mechanization, labor costs per unit of product is declining. In addition, China's long history of furniture manufacturing provides a large amount of skilled labor for the industry. Because of these skilled workers, in the face of the complex design requirements of customers, companies can not only get more orders, but also reduce design costs and improve the overall production cost advantage of the company.
Second, it has the advantage of industrial clusters. The industrial chain of furniture manufacturing involves raw materials such as logs, sawn timber, wood boards, hardware fittings, plastics, and other materials such as paints, glues, sandpapers, and packaging materials. At present, the industrial clusters and specialized divisions of export office furniture and outdoor furniture with regional characteristics in Hangzhou have gradually formed, which has increased the degree of specialization in furniture manufacturing and exerted the advantages of industrial scale. The Hangzhou furniture industry cluster belt exists in the form of industrial parks. These large and small industrial parks form a huge industrial cluster, which is conducive to enterprises to quickly respond to market changes and reduce production costs.
In addition, the production efficiency advantage is obvious. Although the European and American traditional furniture manufacturing countries have important advantages close to the consumer market, the lack of flexible labor time system limits the improvement of production efficiency; although the emerging furniture producing countries have low labor costs and rich forest resources, they lack the developed industrial supporting system restrictions. Increased production efficiency.
From the perspective of enterprises and government departments, the first is to adjust development strategies in a timely manner, actively guide and support, and break through foreign technical trade measures. The second is to cultivate economies of scale and integrate the furniture industry structure. The third is to implement the brand strategy and enhance the value of the Hang brand. Only by striving to cultivate the Hangzhou wood furniture brand with original design capability, can achieve a huge profit in the international market by gaining a considerable market share in the country and expanding exports to form a world-class brand, in order to truly get rid of the situation of being subject to cost price. Maintain lasting international competitiveness.
News playback
On July 10, 2011, CCTV's "Weekly Quality Report" broadcasted "Da Vinci's high-priced furniture "foreign brand" identity was accused of fraud, which detonated many of the indulgences in the furniture industry and also led consumers to the furniture industry. Crisis of Confidence. On November 26th, 2011, "The Top Ten (2011) China Furniture Industry Annual General Appraisal Awards Ceremony" released "Top Ten News of China's Furniture Industry in 2011", and "Da Vinci Event Exposure" topped.
In January 2011, the United States "Composite Wood Products Formaldehyde Standards Act" came into effect, and was officially implemented in July of that year. The Act stipulates that the formaldehyde emission limit requirements for wood products such as particleboard, MDF and hardwood plywood sold and sold throughout the United States are more stringent than before. According to industry insiders, the "Bill" standard for formaldehyde emission is "the most stringent in the world."
Spunlace is a nonwoven fabric, based on the bonding by waterjets of carded web. bonding by waterjets of carded web. The hydroentangled bonding technology is a system in which water is emitted under high pressure and velocity from closely positioned nozzles onto a web of loose fibers. The intensity of the water stream and the pattern of the supporting drum or belt entangle, spin and curl the web`s fibers about one another. The entangling of the fibers and the friction between the web`s fibers yields a cohesive web. The process makes a nonwoven fabrics with physical properties of softness, high bulk, drapability, stretchiness, good strength and depending upon the fiber used, aesthetics that mimic traditional knitted or woven textiles. The fibers are composed of polyester and viscose in different proportions. The machine width (3200mm) can be slitted from 100mm to full width. Roll lengths as per requirement.
Spunlace nonwovens are employed in both disposable and durable non-woven products. In general disposable spunlace products have seen stronger growth since 2014, as these are mass-market applications, such as Baby Wipes , and the secondary top sheet of feminine hygiene products. Disposable nonwoven products tend to be more specialised and have higher-margin than durable nonwoven products.

Growing demand for these disposable items among an emergent and aspirational middle classes in Asia make this the largest regional market for spunlace nonwovens and its largest producer. Asia has 277 identified installed spunlace lines with a capacity of about 1,070,000 tonnes in 2019. China alone has almost 200 installed lines and nameplate capacity of over 800,000 tonnes. This will underpin a further growth of Asian demand for spunlace products of nearly 350,000 tonnes through to 2024.

Cotton Spunlace , Polyester & viscose spunlace, Spunlcace For Wipes, Spunlcace For Facial Mask, Parallel Spunlcace, Cross Spunlace , Plain Spunlace , Embossed Spunlace, Mesh Spunlace
Four end-use markets

Future expansion and profitability in the spunlace segment will be powered by a combination of both evolution in consumer demand, cost dynamics in supply and innovations in technology. Smithers` expert analysis identifies the following leading market trends:

Greener wipes

The largest end use for spunlace nonwovens is wipes. This accounts for 63.0% of all spunlace consumption in 2019, with nearly half of these being used in baby wipes.

Nonwovens used in baby wipes are mainly spunlace due to their strength and softness, an in spite of their being expensive and not fully biodegradable.

Three recent innovations in baby wipes globally are:

`Sensitive` products marketed as having no fragrance, no alcohol, hypoallergenic, with mild, natural lotions)

Regenerated cotton wipes that have taken advantage of the falling cost of recycled cotton as a raw material;

Lyocell-based nonwovens which consumers have come to recognise sustainable base material.

The next fibre innovation in baby wipes may be nonwovens made from bio-based polymers Producers are trialling a spunlace made from polylactic acid (PLA) and negotiating better and more consistent pricing for PLA fibre.

Flushablity

The recent boom in demand for wipes has created an oversupply of high-performance, lower-cost dispersible spunlace nonwovens for flushable wipes – a market once limited by the availability of viable dispersible nonwoven substrates. At least nine new nonwovens production lines entered service between 2013 and 2019 using new technologies for the flushable nonwovens wipes market.

Consequently flushable wipe producers are looking to new flushable wipe markets. The principle technical target is to evolve contemporary technology to improve dispersibility and increase flushability. If a product can be designed with equivalent flushability to toilet tissue, then potential issues with both the wastewater industry and government regulatory agencies will be avoided.

Sustainable hygiene

Hygiene is a relatively new market for spunlace. The main applications are in stretch ears for Diapers /nappies and the secondary top sheet for feminine hygiene products. It penetration has been restrained by production and cost considerations compared to spunlaid manufacture.

Sustainability is growing in importance for disposable items. The European Union agreed its Directive on Single-Use Plastics, on December 2018. Sanitary napkins are one hygiene product on its initial target list. Hygiene product producers are also keen for more sustainable products that they can sell to consumers concerned about the environment, although price will continue to be an equally important factor to 2024.

There is an impetus on all market participants to contribute towards this goal:

Material suppliers need to identify more sustainable, lower-price fibres and polymers to use in spunlace nonwovens.

Equipment suppliers must reduce their capital expenditure by supplying lines that are optimal for lower basis weight hygiene products.

Spunlace producers must also develop products that use these new raw materials and improved processes to make lower-cost, softer, sustainable hygiene products.

Sales and marketing staff must identify those regions and consumer segments that will pay a price premium for a sustainable hygiene product.

High performance in medical

The first major market for spunlace was in medical applications including surgical drapes, surgical gowns, CSR wrap, and wound dressings. Many of these end-uses have now been taken over by spunlaid nonwovens, however.

Spunlace is unlikely to match the cost of spunlaid nonwovens in this end use; buyers of medical nonwovens who value performance and sustainability must be identified and engaged. To increase spunlace use in medical products, raw material suppliers must identify and supply low-cost, sustainable raw materials that are absorbent and offer structures with higher strength and stretch than current spunlace products.

Spunlace
Spunlace Cloth,Parallel Spunlcace,Spunlace Nonwoven,Spunlace Nonwoven Fabric
Zhejiang Youquan Care Products Technology Co., Ltd. , https://www.youquancare.com